Ocean Magic Free Play Bonus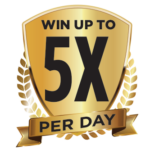 September 9 – 29 | 11 AM – 7 PM

Tuesdays | Cathedral City
Thursdays | Palm Springs
FREE PLAY BONUS ON ALL SLOT MACHINES*
Earn Slot Points by playing with your ACE Club card to win BONUS FREE PLAY PRIZES!
Look out for the Progress Bar, and track your play!
For each point-earning goal you reach, you'll activate the Ocean Magic Prize Bubbles!
Receive GUARANTEED FREE PLAY rewards for each bonus game.
HOW DO I PARTICIPATE?
» Beginning at 11 AM on each promotional day according to the schedule above for each Casino, insert your ACE Club card at your favorite slot machine.
» As you play, you're earning points toward activating the Ocean Magic Prize Bubbles for Free Play prizes!

HOW DOES IT WORK?
» Beginning at 11 AM on each promotional day, a progress bar will appear on your slot machine as you begin to play.
» The progress bar shows you how close you are to reaching the Ocean Magic Bonus Game.
» As you continue to play and earn points, you'll see the progress bar begin to fill up.
» Once you've filled the progress bar completely, the Ocean Magic Bonus Game is activated.
» Prize Bubbles will appear on the screen. Free Play will be awarded at random!
» No matter which bubbles you select, you're guaranteed to win a FREE PLAY reward!

THE MORE YOU PLAY, THE MORE FREE PLAY YOU WIN!

HOW CAN I WIN MORE FREE PLAY?
» Keep playing your favorite slots with your ACE Club card for more chances to activate the Ocean Magic BONUS GAME!
» You'll get another chance to play as soon as you've earned enough points.
» Each ACE Club member is able to play the BONUS GAME up to 5 times per promotional day.


*Free Play prize based on card level. All slot machines qualify including Video Poker. Ocean Magic™ Copyright © 2018 IGT. For a list of qualified slot machines, visit the Ace Club. Ace Club Members must use only one (1) ACE Club card during the Promotion Time-Frame. Point Conversions to Free Play completed during the promotion will affect Progress towards the next Bonus Game.