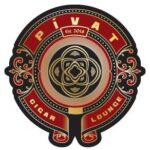 With more than 1,000 recipe combinations with flavor profiles from smoky to sweet, every Private Select is special at Pívat.
Aged four months in an oak whiskey barrel and purposefully crafted to pair with a Pívat cigar, this classic spirit has evolved into a one-of-a-kind imbibe experience.
The special blend of tasting notes begin with a hint of vanilla, while slowly introducing a rich, chocolatey taste and ending with a hint of pepper – the perfect match for a bold cigar.
Only Agua Caliente offers this well-balanced spirit and whiskey combination.
You simply cannot recreate the barrel.
Truly one of Pívats Best Kept Secrets.

Available At All Agua Caliente Casinos.

Distilled In Loretto, Kentucky